The free iOS and Android apps of the week are both games; Blyss and Chameleon Run are on the house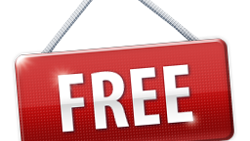 Now that the Google Play Store is offering a free weekly app, we can tell you that both iOS and Android users each have a game that they can download on their respective devices for the low, low price of zero. Let's start with the iOS freebie.
Blyss
is a simple and minimalist puzzle game that has proven to be addictive. There are three game modes with global leaderboards for each one. The game involves the use of white blocks, each covered with one or two dots. The dots reveal the number of times that each block must be swiped. The puzzle is completed when all of the blocks are removed from the playing field.
Normally $1.99, the game is free for iOS users until Thursday. To see the game in action, check out the trailer in the video slideshow. Blyss has received almost universal praise from iOS game players, so it might be worth it to download the game while the price is right. To add the game to your iOS device, click on the appropriate link found above the sourcelink.
"Some dots take one swipe, some take two. But one thing's for certain: If you want to clear every puzzle, you have to think through your moves. Failure's inevitable in the high-stakes Endless mode – but trust us – you won't mind restarting."-App Store on Blyss
The free Android app of the week, also free until Thursday, is
Chameleon Run
. As the name would suggest, you play a character that changes colors. As you jump and run through different levels, your goal is to match the color of your character as you move to different platforms.
According to the Google Play Store, features of the game include:
Fast paced running, jumping and switching colors
Fun jumping mechanics like "double jump" and "head jump"
Pixel perfect physics
Stylish, super smooth and colorful graphics
Non-linear levels with 3 special objectives in each one
Compete for the fastest time on each level
Simple two button controls
Check out the trailer by clicking on the video slideshow. Chameleon Run is usually $1.99. To download the game, click on the appropriate link found above the sourcelink. If this game sounds familiar, back in February it was the iOS free app of the week.
Download Blyss for iOS by clicking on this link.
Download Chameleon Run for Android by clicking on this link.

source: Apple, Google, DropoutGames, Noodlecakegames