The ZTE Orbit may be the first Windows Phone with NFC
0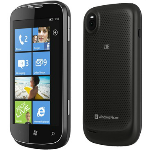 We only just today heard about the ZTE Orbit, which was
originally expected to be a lower-end
Windows Phone device, and it is already starting to make waves in the WP ecosystem. A few more features have supposedly been confirmed for the device, and they are making it seem a bit more interesting.
When we first heard about the device, the only specs we had were that it would come with 4GB of internal storage, a 5MP camera, and support for HD Voice. HD Voice alone is a pretty solid addition to any phone. But now, we're hearing that the Orbit will have 512MB of RAM and a 1GHz Qualcomm processor, making it more high-end than we first expected. It also could be the first Windows Phone device with an NFC chip built-in.
Arenamobile.de has confirmed that the Orbit will feature NFC as well as WiFi Direct and DLNA support. And, given that the device is expected to be released in Q2, that could make it the first Windows Phone device on the market with and NFC chip.