The Samsung I9000 gets a Wi-Fi certificate
This article contains unofficial information.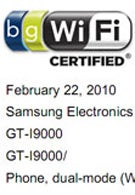 Wi-Fi Alliance and Bluetooth SIG are two of the places, where we can usually find out about the existence of new handsets. The former now features information on a new Samsung model that still remains shrouded in impenetrable mystery, the
I9000
. The only known fact about the device is that it will support Wi-Fi 802.11b/g. The model number shows the handset will probably be a high-end smartphone, although it´s still anyone´s guess what operating system it will be running. Samsung´s cell phones with names starting with "I" are based on various operating systems, including Android (the
Beam I8520
,
Galaxy I7500
), Windows Mobile (the
Omnia II I8000
) and even Symbian (the
Omnia HD I8910
,
INNOV8 I8510
). On the other hand, a rumor that appeared last December (along with a rather questionable rendering) had it the I9000 would be based on bada. The provided information indicated the handset would be equipped with 12-megapixel camera,
4.2
-inch AMOLED display and 1GHz processor. We are almost certain these specifications related to nothing more than a vivid dream of Samsung´s eager fan, not that we would mind getting our hands on a new bada-based model after the impressive performance of the
Wave
. Windows Phone 7 Series device would also be more than welcome, not to mention Samsung better hits on all four cylinders in order to come up with such a device as soon as possible, unless they are willing to see
LG beat them to the draw
with this respect.
source:
SamsungHub
,
Phones Online