Samsung Wave S8500 Preview
7

This review has been updated on April 19.
This is a global GSM phone. It can be used with AT&T and T-Mobile USA, but without 3G.

Samsung Wave S8500 Release Date - April, 2010

Introduction: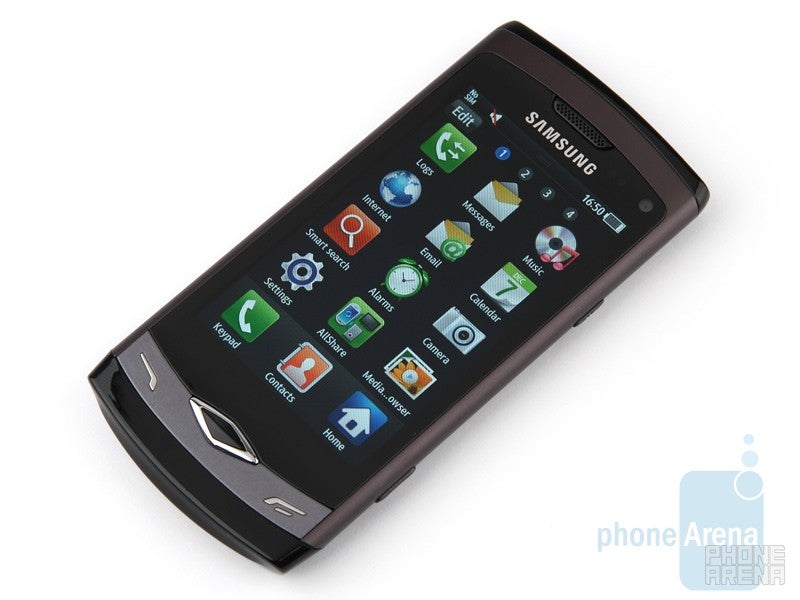 Life has come from the water. That's where everything has begun for us, so water seems to be a pretty natural place for Samsung to start a new beginning. Samsung has created a new mobile operating system to compete with the other big players on the smartphone market. Will it succeed? We don't know that yet, but we are dying to see what will become of the new bada OS, and how it will evolve with time. In Korean, "
bada
" means ocean, and the
Samsung Wave S8500
is the first smartphone that will take you on a journey to bada's depths. We sincerely hope that's a place where beautiful and friendly creatures live and shine in a plethora of colors to create an immersive atmosphere. Still, we are not striking off the list the option of bada being a place where carnivorous sharks are swimming around you in a circle, anticipating your one wrong move so they can have a little snack. But we guess that all depends on Samsung's devotion to create a rich platform and not just do a marketing trick by providing a "smartphone for everyone".
The Samsung Wave S8500 has the new TouchWiz 3.0 interface, which makes the handset look like a typical Samsung feature phone. So we guess bada is to be an accessible, easy to use OS, which will still allow the user to install native applications that will be able to use the rich system resources in order to deliver a much deeper experience. So now that we've got a prototype unit of the Samsung Wave S8500, we are eager to present you our impressions of the new software platform and, of course, of the nice and shiny phone the Wave is.
Design:
Oh, the Samsung Wave S8500... that's one very hot handset that sports a metal chassis, and looks somewhat similar in style to the
Google Nexus One
. Well, it may look very similar to the Nexus One and may have almost the same dimensions, but there's one important difference - the screen of the Wave measures 3.3 inches, while the Nexus One has a 3.7-inch one. Except for that one issue, we are perfectly happy with this display. Like every AMOLED, it delivers great contrast, blacks are really pitch black, and colors are incredibly vivid. However, Samsung has utilized a new
"Super AMOLED" technology
, which, in theory, should provide even better image quality and less reflection. The manufacturer has achieved this by removing the panel for the touch sensor and the air gap between the AMOLED and the touch sensor. This should also allow for better visibility under bright sunlight, which is something not very common for AMOLEDs. We compared the Wave's screen with the LCD one of the
iPhone 3G
and it was better in almost every respect. When indoors, the Super AMOLED provides a lot more clarity and saturation, while its viewing angle is incomparably wider. The Wave is indeed quite usable when outdoors, but still the iPhone 3G demonstrated its supremacy here. We will compare the Samsung Wave S8500's Super AMOLED with a traditional AMOLED screen in our review.
It doesn't end here though. Samsung has covered the display with tempered glass, which is really firm, and has even applied an oleophobic (from the Greek "oleo" – oil) coating so it doesn't get the annoying fingerprint smudges. The end result is near perfect. The WVGA resolution makes the image very crisp and clear.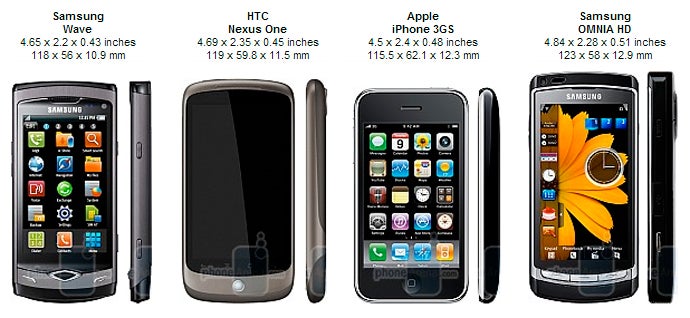 You can compare the Samsung Wave S8500 with many other phones using our
Size Visualization Tool
.
Alright, we told you how great the screen is, and you've already seen how good the phone looks. So that's why we want to congratulate Samsung for the appreciable work they have done with the Wave's design.
We won't waste time here describing the key configuration on the Samsung Wave S8500, because you can see that on the images. Rather, we will tell you that they are all very pleasant to use, as they have a nice click, so you can never mistake when you've pressed a button. On the whole, the build quality of the Wave is great. It is obvious that Samsung wanted to come up with a killer handset for the introduction of bada, and we've got to admit they have achieved very good results here in the design department.
Samsung Wave S8500 360 Degrees View: Partners: Ready to buy the
Samsung Wave
? Order today at Dial-a-Phone in the UK.
Recommended Stories