The Samsung B3310 sports a QWERTY keyboard and social network functionality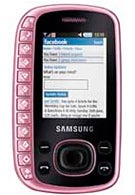 As you can see in the pic, with its pink color the Samsung B3310 is most probably aimed at young, female texters. The first thing that we noticed is the interesting keyboard layout. According to Mobiles.co.uk it will allow people to find the numeric keys where they would expect to see them on a normal, desktop keyboard when the full QWERTY is opened. And what if it´s closed? The QWERTY has three rows of buttons and unlike the
Nokia N97
, the "space" button is right in the middle. The "Z" key is, however, right below the "A" and not one position further to your right as on some Nokia handsets with similar hardware QWERTY layouts. Still, the keyboard looks handy and we hope that typing messages on social networks like Facebook will make for a pleasing experience indeed. Wait, Facebook? Yes, according to the source, the B3310 will come preloaded with not only Facebook and MySpace apps, but will allow you to share content through Flickrs and Photobucket as well.
According to the same website, the Samsung B3310 will sport a
2.1
-inch display with native resolution of 176x220 pixels and 256k color support, 2-megapixel camera, GPRS (no 3G though), Bluetooth 2.0 with A2DP support, MP3 player, FM Radio and microSD card expansion slot. The manufacturer has managed to pack everything in a slim body that is 93mm long, 53mm wide and 18mm thin and the handset is expected to hit the shelves mid September. If turns out true, we don´t suppose Samsung will be holding up on their official announcement much longer.
source:
Mobiles.co.uk