The Huawei Ascend P7 to be revealed on May 7 in Paris
6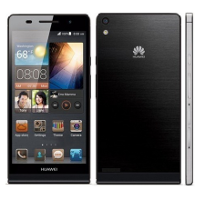 It looks like Huawei is throwing a May7 launch party for its Ascend P7 smartphone in Paris - always theimpressionable venue of choice for device reveals. We have a prettygood clue about what to expect from the Chinese contender, which wasleaked several times prior to the announcement.
The Ascend P7 willfeature a refined version of the Ascend P6's attractive rectangulardesign, a 1.6GHz quad-core HiSilicon chipset, 2GB RAM, 16GB ofstorage space, a 13MP rear camera, an 8MP front camera, LTE, and abattery with the possible capacity of 2460mAh. The operating system willbe Android 4.4 KitKat, and the smartphone should be available inpink, gold, silver, and black.
While we're waiting for moreannouncements and clues from Huawei, check out our review of theHuawei Ascend P6 for a quick refresher on what the last Ascend-seriesflagship was about. Outside of China, the land of cheap and awesomephones, mid-range Android handsets hardly get better than the AscendP6. Of course, there are the Nexus 5, and the lovable Moto G, butHuawei's phone definitely has the design advantage. You can also seesome photos of the upcoming Ascend P7 here and here. Its price and availability are anyone's guess at the moment.
via IntoMobile