The Domingos is a physics-based puzzle game with cowboys and dominos
2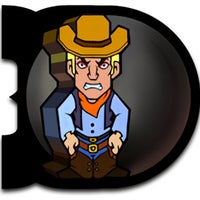 Did you enjoy toppling rows of dominos when you were a kid? Did you find the chain reaction greatly amusing? If so, then here's a game you're probably going to like - The Domingos.
The Domingos is a physics-based puzzle game, the kind of which you surely haven't played yet. Long story short, there is a number of hard-to-reach dominos strategically placed on each level. The player must topple these by placing additional domino pieces, and that's not always an easy task since the extra dominos you're given are of limited amount. Various obstacles, such as barriers, or dominos you're not allowed to touch, make the later levels even more challenging.
But as a whole, The Domingos is not a very difficult game. It is of low to moderate difficulty, which makes it suitable for younger gamers. There is a total of 75 levels at this time, with more to come in the future.
You can get The Domingos on your Android smartphone or tablet for absolutely free. The game generates revenue for its developers by displaying advertisements, but you can disable these with an in-app purchase of $0.99.
| | |
| --- | --- |
| Developer: TeaPOT Games | Download: Android |
| Genre: Puzzle, Physics | Price: Free (with in-app purchases) |