"The Daily" iPad magazine coming out on February 2, 2011
0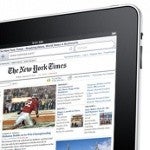 After an initial delay,The Daily, News Corp's iPad arrival, will finally launch on February2, 2011 in New York's Guggenheim Museum. Rupert Murdochwill be joined by Apple's internet services VP Eddy Cue for thepresentation of the magazine.
Eddy Cue is expected to shed some lighton how exactly the subscription system works through iTunes. TheiPad-only edition will take advantage of a new subscription API byApple, which will handle both billing and timely content delivery.
The Daily for iPad, however, is not thefirst iPad-only edition. Richard Branson's Project Magazine was thefirst edition limited only to Apple's tablet. Reportedly, Apple willchange its policy so that newspapers/magazines subscription will haveto be exclusive for the iPad, unlikecurrent deals when you can get a combined deal for both paper andiPad subscriptions.
source: SlashGear