The Blue Coral variant of the Galaxy S7 edge can now be purchased unlocked through Amazon for $620
33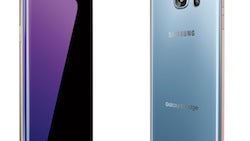 When the Galaxy Note 7 got axed, not only did Samsung kill off one of the best smartphones of 2016, but they also took away on of the most striking color combinations we've ever seen on a smartphone - Blue Coral. Samsung announced back in late October that a Blue Coral version of the Galaxy S7 edge would make its way to the United States, and all of the big carriers (AT&T, Sprint, T-Mobile, and Verizon) received the Blue Coral variant of the smartphone around mid-November. This was certainly great news for those who are loyal to those carriers, but those who prefer to buy smartphones through other retailers were left a bit in the dark.
However, that is up until now. After about a month of waiting, the Blue Coral Galaxy S7 edge can now be purchased from Amazon completely unlocked. This certainly is phenomenal news, but it is worth keeping in mind that the version of the S7 edge that Amazon is selling is the international variant. What does this mean for you? The international model isn't guaranteed to work on all carriers here in the States, but it should work perfectly fine on any GSM-based network (AT&T and T-Mobile).
Amazon is selling the Blue Coral S7 edge for just $619.99 unlocked.
If that international status of the Blue Coral S7 edge on Amazon doesn't phase you, then you should be rather pleased to hear that Amazon is asking just $619.99 for the smartphone. That certainly isn't cheap, but it's considerably less than what the four major carriers are asking for the handset if you wanted to buy it outright through them. Do take note that the phone could arrive after Christmas with Expedited Shipping currently offering an arrival date between December 21st and the 28th, so if you're looking to get the phone as a present for someone, you'll want to get your order is sooner rather than later.