Telstra HTC HD7 buyers can get either Xbox games or 3000 XBOX Live points for free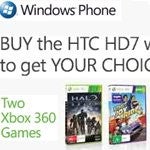 Pulling off a
similar promotion
when Windows Phone 7 first launched, Microsoft and Australian telecoms operator
Telstra
is offering a dandy of a treat for any customers who happen to pick up the behemoth of a phone in the
HTC HD7
.
Aside from the warm fuzzy feeling you'd get buying a brand spanking new respectable Windows Phone 7 smartphone, those who are scooping up Telstra's HTC HD7 have the opportunity of picking up their option of either
two XBOX 360 games or 3,000 XBOX Live points
. Naturally, this is a wonderful way to promote a product, but at the same time, it does make you wonder how sales are actually going. Still, it's a win-win situation for the customer whichever way you look at it.
As it stands, the limited offer is only available between now and
May 31st
, and it's limited to the first
5,000 people
who qualify for it. Let's hope we continue to see similar promotions in the future at other regions as well.
source:
XBOX
via
WMPoweruser