Buy a new Windows Phone 7 handset and get 1 of 4 new Xbox games for free
7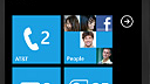 With buttery smooth navigation and pinch-to-zoom, Windows Phone 7 looks to be a formidable challenger to the iOS and Android. And just to tip the scales a little in favor of Windows, if you buy a handset loaded with Microsoft's new OS, you can receive for free 1 of 4 new Xbox games. The titles that you can choose from are Halo: Reach, Fable III, Kinectimals and Kinect Joy Ride. One game will be awarded per mobile number with the value of the free game no higher than $60.
The new Windows Phone 7 handsets are equipped with a Xbox LIVE tile that lets you find out what you friends are doing-are they playing Xbox, are they using their computer or are they on their new Windows Phone 7 handset? You can also play games against other live opponents including turn-taking multiplayer games. If you have an Avatar, you can even display it on your phone.
The offer is good until December 31st and eligible handsets include the Samsung Focus, LG Quantum, HTC Surround, HTC HD7 and the Dell Venue Pro. To request your free game, go to www.myfreexbox360game.com and print out a completed redemption form. Take the form along with the purchase receipt, a copy of the UPC code from the phone's packaging, and within 45 days from the date on the receipt, mail the paperwork to Windows Phone 7 Redemption Program, c/o ePrize LLC, Dept #69384, PO Box 5046, Kalamazoo, MI 49003. For more information on the promotion, click on the source link.
source:
XBOX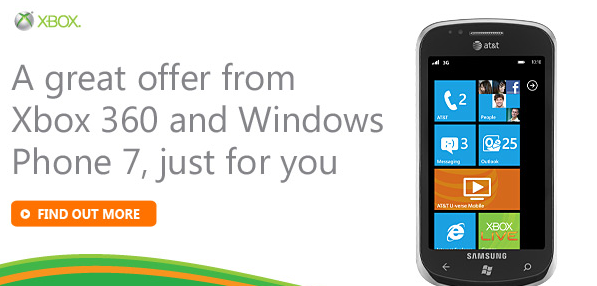 Buy a new Windows Phone 7 device and get one of four free Xbox games