TeliaSonera launches 4G in Estonia
2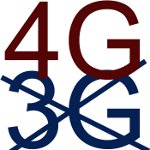 TeliaSonera was the first operator in the world to launch a commercial LTE network and a study
we reported
(by Signals Research) points to the fact that you can experience some unbelievable speeds with its services. Now Estonia joins Sweden, Norway, Finland and Denmark in a privileged TeliaSonera LTE club that has at its disposal real 4G speeds. The mobile operator's official word on the topic:
"We are proud to be the first operator in Estonia to offer our customers 4G. We launch 4G in Tallinn, Tartu, Kohila, and at our IT College in Tallinn. We have an aggressive rollout plan and will continue to expand in Estonia during 2011."
Just to remind you that during the above-mentioned tests in Sweden, the Signals Research staff noted that:
"We witnessed the theoretical peak throughput of a Category 3 device (102.05 Mbps) without even trying."
When do you think we will start to see this kind of speeds in the USA?
source:
TeliaSonera
via
DailyMobile