Take 35% off the price of a Moto 360 Sport smartwatch from Amazon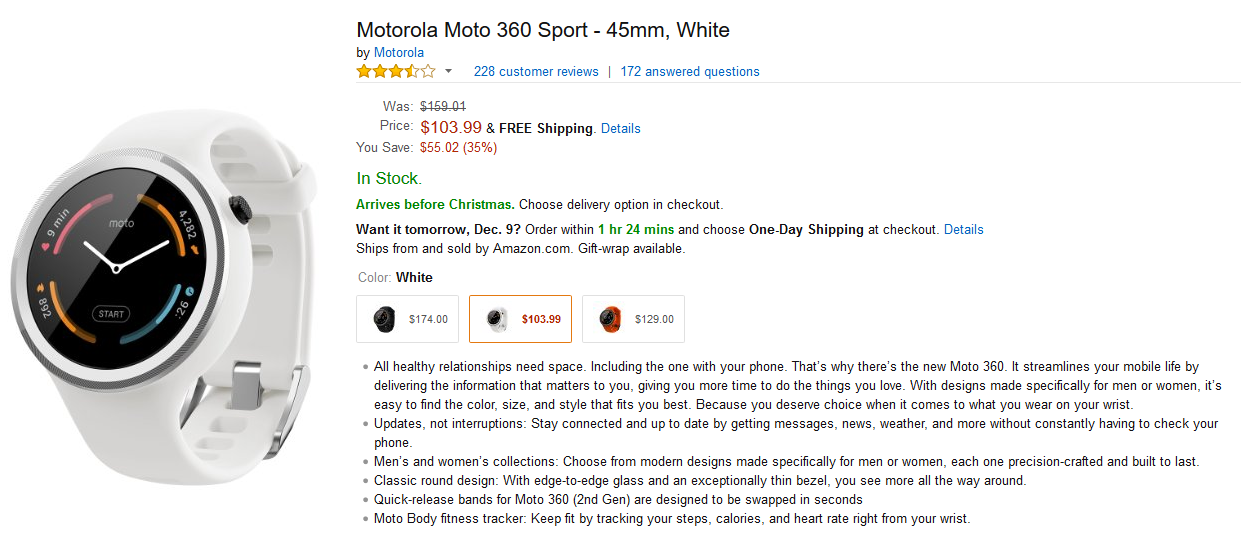 Amazon is cutting 35% off of the price of the Moto 360 Sport
You've been looking for an Android Wear powered smartwatch to buy, and the Moto 360 has made your short list. Now, it's just a matter of finding a good deal that will save you some money. Well, it appears as though Amazon has a (pardon the pun) timely offer for you. For a price of just $103.99, you can purchase the 45mm Moto 360 Sport. That is a savings of $55.02 (35%) off of the current $159.01 price. Keep in mind that the watch was priced at $299.99 when first launched.
So what makes this a "Sport" model? Glad you asked. The watch is equipped with an optical heart rate monitor, IP67 dust and water resistance, improved visibility outdoors and GPS. You might notice that the band seems less fancy and designed more for those on the go. The aforementioned price of $103.99 covers the model in white. The black and orange models will set you back $174 and $129.97 respectively.
Amazon doesn't say how long this sale is good for, but you'll be hard-pressed to find the Moto 360 Sport available for a lower price. If you're interested, click on the sourcelink.
source:
Amazon
via
AndroidAuthority