T-Mobile's HTC One S hit with battery drain issue while using Wi-Fi calling; software fix is coming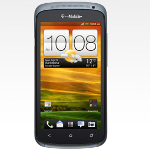 A couple of days ago,
T-Mobile launched the HTC One S for $199.99 with a signed 2-year contract
. Trade in a smartphone and get $100 off. Trade in an Apple iPhone and get the HTC One S for free. It all sounds good, right? There is one small problem though. Whenever the Wi-Fi calling feature is being used,
the battery on the HTC One S drains quickly
. On T-Mobile's support page, the carrier suggests that to reduce the battery drain during Wi-Fi calling, users keep the phone plugged in to charge. Wow! What a flash!
will be addressed in an upcoming software update
," although no specific date for the update was mentioned. Calling over Wi-Fi is a feature that could save you the money that you would have had to pay from going over the voice cap on your plan. Having it drain your battery, on the other hand, is
not exactly what HTC One S users had in mind
when they bought the device. Until the software update is released, following T-Mobile's advice and keeping the phone plugged in while you use the Wi-Fi calling feature should help prevent you from walking around with a dead battery in your HTC One S.
source:
T-Mobile
via
AndroidCentral