T-Mobile will parade 5G around the States on the back of a semi-truck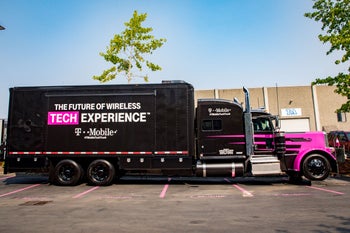 The 5G hype train is gaining speed, but T-Mobile decided to use another vehicle to pump us up – a truck. The company revealed its traveling exhibition yesterday during an event at its national technology lab in Bellevue, Washington.
The mobile showroom, called "The Tech Experience Truck", will educate guests not only about the benefits of 5G for their smartphones, but also highlight a future where cities are "smart" and everything is connected with the super high-speed, low-latency wireless connection. The event space will have Virtual and Augmented Reality setups for people to try them out and presentations that showcase future applications of the technology.
According to T-Mobile, 5G will "transform the world we live in", so if you want to get a glimpse of the transformation the carrier is envisioning, you should go check it out when it's in a town near you. The truck will be touring the continental United States for the next 12 months and you can follow its movement using #TMobileTechTruck on social media websites.
At the same event, T-Mobile opened for the public its permanent innovation center at its Launch Pad lab in Bellevue, Washington. Inside the same building where the company's engineers are working to make the promised future a reality, visitors will be able to learn about and test for themselves 5G-powered technologies. The Tech Experience center will offer some additional experiences from what you will find on the truck, such as a race-driving simulator and other interactive booths.
T-Mobile already announced the
first cities that will get 5G
, but to actually use it, consumers will have to wait until smartphones and devices capable of using the new technology show up in stores.
source:
T-Mobile
via
TMoNews