T-Mobile joins the 5G fray, announces super-fast network in 30 cities by the end of 2018
7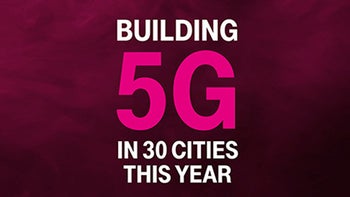 The Un-carrier has just announced plans to build 5G in 30 cities by the end of the year.
T-Mobile customers
in New York, Los Angeles, Dallas and Las Vegas will be among the first to experience super-fast speeds when the first 5G smartphones will be launched early next year.
Unlike AT&T and Verizon which said their first 5G devices will be pucks, not smartphones, T-mobile claims it will be focusing on "delivering a truly transformative 5G experience," which is meant to work on actual smartphones.
T-Mobile has already started to deploy
5G-ready equipment
and enable 5G low-band spectrum (600 MHz), but that's not all, as the carrier announced plans to begin building out 5G on millimeter wave spectrum in 2018.
Dumb and Dumber are in a meaningless race to be first. Their so-called 5G isn't mobile, and it's not even on a smartphone. It's a puck?! You gotta be pucking kidding me! While the Duopoly focus on bragging rights, we focus on customers. T-Mobile has massively bigger plans for a truly transformative 5G experience on your smartphone nationwide. We're playing the long game ... the only game that matters, said John Legere, president and CEO at T-Mobile
Apparently, T-Mobile is only US carrier to announce plans for standards-based 5G across multiple spectrum bands. On top of that, the network operator expects to deploy 25,000 small cells to light up Licensed Assisted Access (LAA), a technology that adds extra capacity and speed.
source: T-Mobile