T-Mobile officially outs the Samsung GALAXY Note II
6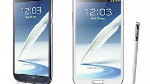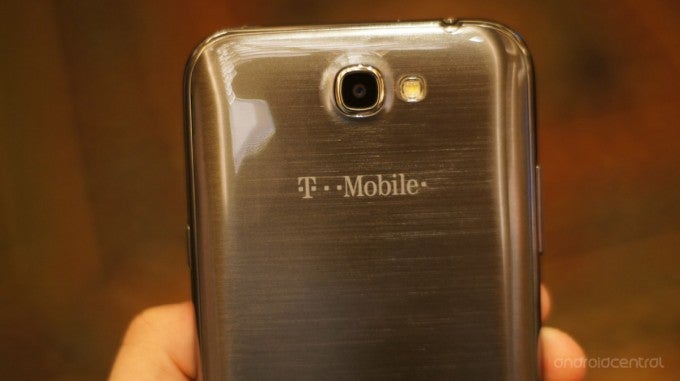 The T-Mobile variant of the Samsung GALAXY Note II, photo courtesy Android Central
Just the other day, we showed you a leaked internal T-Mobile memo that
revealed an October 24th launch date
for the T-Mobile version of the
Samsung GALAXY Note II
. That wouldn't mean anything without the official word from the carrier that it is going to offer the device. The good news is that the nation's fourth largest carrier did indeed
make it official on Tuesday
. This had all been foreshadowed from the moment that the
carrier dropped the Samsung GALAXY Note from its lineup
less than a month after launching the phablet.
T-Mobile customers buying the Samsung GALAXY Note II will find a free racing game, with three free levels, pre-installed. The game, which is optimized to interact with a MOGA Mobile Gaming System, will bring console quality game playing to your phablet. One of the newer features for the device is the SAFE (Samsung Approved for Enterprise) functionality which allows you to sync corporate email, calendars, contacts and sensitive information securely. This makes the unit a good choice for the pinstriped set.
No ideas on pricing were revealed by T-Mobile, but with the 24th just two weeks away, we should know sooner than later how deeply into your pocket you will have to dig for the device.
source: T-Mobile
BELLEVUE, Wash. — Oct. 9, 2012 — T-Mobile USA, Inc., and Samsung Telecommunications America, LLC (Samsung Mobile), today announced the upcoming Samsung Galaxy Note® II. The new smartphone features T-Mobile's largest smartphone screen — a 5.5-inch HD Super AMOLED® screen — for an enhanced entertainment experience and improved productivity while using the device. The Galaxy Note II is T-Mobile's first device with a quad-core processor, featuring Samsung's 1.6GHz quad-core Exynos processor. In addition, the Galaxy Note II is T-Mobile's first smartphone shipping with Android™ 4.1 Jelly Bean and the device's 3100mAh battery powers up to 15 hours of talk time1.



"The Samsung Galaxy Note II is the latest innovative device to join T-Mobile's portfolio. It takes the all-in-one device concept to the next level and we anticipate it will replace many standalone devices consumers have today," said Brad Duea, senior vice president, product management, T-Mobile USA. "When combined with our Unlimited Nationwide 4G Data plan, the Galaxy Note II is a true powerhouse device with exclusive features, amazing 4G experiences and superior value that only T-Mobile can deliver."

Entertainment

Only T-Mobile Galaxy Note II customers will have access to an exciting new racing game preloaded on the device, which will include three free levels. In addition, T-Mobile's exclusive version of the racing game will be optimized to interact with a MOGA™ Mobile Gaming System, bringing an immersive, console-quality gaming experience to the palms of T-Mobile customers' hands.



The Galaxy Note II also enables T-Mobile customers to bring their entertainment to the big screen by wirelessly sharing content, such as games, movies and TV shows on their smartphone, to any HDMI-capable TV via the AllShare Cast feature and AllShare Cast Wireless Hub accessory. The AllShare Cast Wireless Hub accessory is currently available in T-Mobile retail stores and at www.T-Mobile.com for $99.99.



Productivity

Building on the Premium Suite of productivity features offered with the original Galaxy Note, the Galaxy Note II delivers an even more robust portfolio of tools for business professionals. The enhanced S Pen™ gives users a more precise and natural writing and drawing experience, making creativity and collaboration a breeze. New applications for the S Pen, such as Air View which gives the ability to preview content simply by hovering the S Pen over an email, calendar entry, image gallery or video, helps Galaxy Note II users get more done – even faster.

The Galaxy Note II is a SAFE™ (Samsung Approved for Enterprise) device, providing the ability to securely sync corporate email, calendars, contacts and sensitive information. In addition, the Galaxy Note II includes T-Mobile's Wi-Fi Calling feature making it easy for T-Mobile customers to make and receive calls no matter where life takes them.



Availability

The Samsung Galaxy Note II will be available in Titanium Gray and Marble White color options. The smartphone is expected to be available nationwide at T-Mobile retail stores, select national retailers and dealers, and online via www.T-Mobile.com in the coming weeks.





1 Usage times will vary depending on phone usage patterns and conditions. Battery power consumption depends on factors such as network configuration, signal strength, operating temperature, features selected, vibrate mode, backlight settings, browser use, frequency of calls and voice, data and other application usage patterns.



Samsung, Galaxy, Galaxy S, Galaxy Note, S Pen and Super AMOLED are trademarks of Samsung Electronics Co., Ltd. Other company names, product names and marks mentioned herein are the property of their respective owners and may be trademarks or registered trademarks.



SAFE Disclaimer of Warranties

TO THE FULL EXTENT PERMITTED BY LAW SAMSUNG ELECTRONICS CO., LTD., SAMSUNG TELECOMMUNICATIONS AMERICA, LLC, AND THEIR AFFILIATES (COLLECTIVELY REFERRED TO HEREIN AS THE "SAMSUNG ENTITIES") EXPRESSLY DISCLAIM ANY AND ALL WARRANTIES, EXPRESS OR IMPLIED, INCLUDING ANY WARRANTY OF MERCHANTABILITY, FITNESS FOR A PARTICULAR PURPOSE, INTEROPERABILITY OR NON-INFRINGEMENT, WITH RESPECT TO INFORMATION TECHNOLOGY SECURITY PROTECTION, SAFE™ DEVICES AND APPLICATIONS TESTED WITH SAFE™ DEVICES. IN NO EVENT SHALL THE SAMSUNG ENTITIES BE LIABLE FOR ANY DIRECT, INDIRECT, INCIDENTAL, PUNITIVE, OR CONSEQUENTIAL DAMAGES OF ANY KIND WHATSOEVER WITH RESPECT TO INFORMATION TECHNOLOGY SECURITY PROTECTION, SAFE™ DEVICES OR APPLICATIONS TESTED WITH SAFE™ DEVICES. In addition, information technology security protection will be affected by features or functionality associated with, among other things the e-mail platform, master data management, and virtual private network solutions selected by the software provider, solution provider or user. Choice of an e-mail, master data management, and virtual private network solution is at the sole discretion of the software provider, solution provider or user and any associated effect on information technology security protection is solely the responsibility of the software provider, solution provider or user. For complete statement of limited warranty, please refer to www.samsung.com/us/safe, available on the web and where Samsung smartphone and Galaxy Tab™ devices are sold.



About T-Mobile USA
Based in Bellevue, Wash., T-Mobile USA, Inc. is the U.S. wireless operation of Deutsche Telekom AG (OTCQX: DTEGY). By the end of the second quarter of 2012, approximately 130 million mobile customers were served by the mobile communication segments of the Deutsche Telekom group — 33.2 million by T-Mobile USA — all via a common technology platform based on GSM and UMTS and additionally HSPA+ 21/HSPA+ 42. T-Mobile USA's innovative wireless products and services help empower people to connect to those who matter most. Multiple independent research studies continue to rank T-Mobile USA among the highest in numerous regions throughout the U.S. in wireless customer care and call quality. For more information, please visit http://www.T-Mobile.com. T-Mobile is a federally registered trademark of Deutsche Telekom AG. For further information on Deutsche Telekom, please visit http://www.telekom.de/investor-relations.



About Samsung Telecommunications America

Samsung Telecommunications America, LLC, (Samsung Mobile) a Dallas-based subsidiary of Samsung Electronics Co., Ltd., researches, develops and markets wireless handsets, wireless infrastructure and other telecommunications products throughout North America. For more information, please visit www.samsung.com.



About Samsung Electronics Co., Ltd.

Samsung Electronics Co., Ltd. is a global leader in semiconductor, telecommunication, digital media and digital convergence technologies with 2011 consolidated sales of US$143.1 billion. Employing approximately 206,000 people in 197 offices across 72 countries, the company operates two separate organizations to coordinate its nine independent business units: Digital Media & Communications, comprising Visual Display, Mobile Communications, Telecommunication Systems, Digital Appliances, IT Solutions, and Digital Imaging; and Device Solutions, consisting of Memory, System LSI and LED. Recognized for its industry-leading performance across a range of economic, environmental and social criteria, Samsung Electronics was named the world's most sustainable technology company in the 2011 Dow Jones Sustainability Index. For more information, please visit www.samsung.com.



Forward-Looking Statements

This press release contains forward-looking statements that reflect the current views of Deutsche Telekom management with respect to future events. These forward-looking statements may include statements with regard to the expected development of revenue, earnings, profits from operations, depreciation and amortization, cash flows and personnel-related measures. You should consider them with caution. Such statements are subject to risks and uncertainties, most of which are difficult to predict and are generally beyond Deutsche Telekom's control. Among the factors that might influence our ability to achieve our objectives are the progress of our workforce reduction initiative and other cost-saving measures, and the impact of other significant strategic, labor or business initiatives, including acquisitions, dispositions and business combinations, and our network upgrade and expansion initiatives. In addition, stronger than expected competition, technological change, legal proceedings and regulatory developments, among other factors, may have a material adverse effect on our costs and revenue development. Further, the economic downturn in our markets, and changes in interest and currency exchange rates, may also have an impact on our business development and the availability of financing on favorable conditions. Changes to our expectations concerning future cash flows may lead to impairment write downs of assets carried at historical cost, which may materially affect our results at the group and operating segment levels. If these or other risks and uncertainties materialize, or if the assumptions underlying any of these statements prove incorrect, our actual performance may materially differ from the performance expressed or implied by forward-looking statements. We can offer no assurance that our estimates or expectations will be achieved. Without prejudice to existing obligations under capital market law, we do not assume any obligation to update forward-looking statements to take new information or future events into account or otherwise.



In addition to figures prepared in accordance with IFRS, Deutsche Telekom also presents non-GAAP financial performance measures, including, among others, EBITDA, EBITDA margin, adjusted EBITDA, adjusted EBITDA margin, adjusted EBIT, adjusted net income, free cash flow, gross debt and net debt. These non-GAAP measures should be considered in addition to, but not as a substitute for, the information prepared in accordance with IFRS. Non-GAAP financial performance measures are not subject to IFRS or any other generally accepted accounting principles. Other companies may define these terms in different ways.



# # #