T-Mobile myTouch Slide gets caught sporting its white finish
This article contains unofficial information.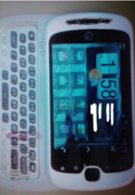 three fantastic color flavors
right out of the gate when its released, but one handset decked in the white paint job was recently snapped. Not to say that the red and black versions aren't bad, but this time around the white version got plenty of attention as someone was able to take some shots of the upcoming Android
2.1
device. In addition, we can see that the Sense UI and all of its glory will accompany the handset which is being regarded as the successor to the T-Mobile G1. Even though it may not be rocking some of the other high-end specs featured of late, it'll nonetheless prove to be well balanced thanks to the QWERTY keyboard that it packs. Now the only thing else left to know about this handset is pricing and a confirmed launch date.
T-Mobile myTouch Slide Preliminary Specifications
source:
TmoNews