LG K30 shows up on T-Mobile's support page ahead of launch
3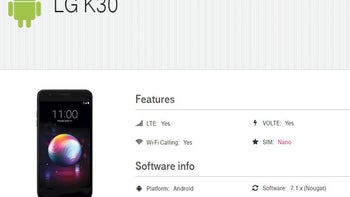 Two months ago we reported that
two LG smartphones are headed to T-Mobile
, although we didn't know when the K30 and Aristo 2 Plus would make their debut at the US carrier. Today, the former appears to have have been listed by T-Mobile on its support page, even though it hasn't been officially introduced yet.
No, you can't yet purchase the LG K30 and we don't even know how much it will cost. However, we do know just about everything else about the entry-level smartphone, such as the fact that it's powered by Android 7.1 Nougat and uses a 2,880 mAh battery that provides up to 13 hours of use.
Hardware-wise, the LG K30 is far from being impressive, but that's not the point considering we're talking about a low-end device. According to T-Mobile's support page, the K30 is equipped with a 1.4GHz quad-core Qualcomm Snapdragon processor, 2GB RAM and 32GB expandable storage (up to 2TB).
Furthermore, the smartphone sports a 5.3-inch display with 720p resolution, a 13-megapixel rear-facing camera, and a 5-megapixel selfie camera. It's also worth noting that the LG K30 supports
T-Mobile's VoLTE
and offers connectivity options like Wi-Fi Calling, Bluetooth 4.2 and NFC (Near Field Communication).
Since the device made it to T-Mobile's support page, we expect the LG K30 to be available for purchase in the US pretty soon. We don't expect it to cost more than $200 outright.