T-Mobile continues expansion of VoLTE, Wideband and 2G to 4G upgrades
26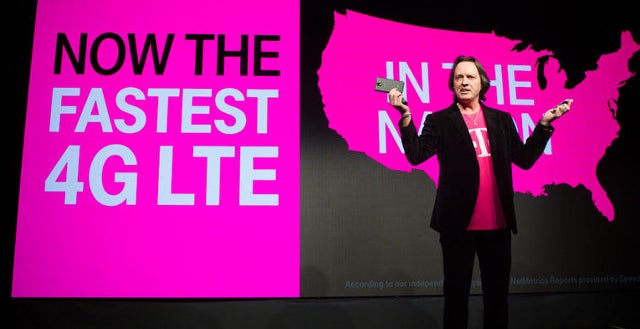 T-Mobile keeps true to its promise of upgrading its services. First on the list - the company's VoLTE coverage has apparently expanded. Following last month's reports of the service being spotted in
New York City, Chicago, San Francisco, California, Dallas and Houston
, users now claim to have noticed their phones running the new system in Greensburg, Jacksonville, Northern Denver, Fontana, Albany, NY and Pittsburgh. You can check if your area is covered easily, provided you own a
Samsung Galaxy S5
,
Galaxy Light
,
Note 3
or an
LG G Flex
. The test is simple - just keep an eye on the screen whenever making a call. If you are in a VoLTE covered area - your LTE connection will remain, as opposed to switching to HSPA for the duration of the call.
There's no word on how soon we will see more devices supporting the new tech, but we'd wager that firmware updates are probably going to start rolling out in the following months. In the meantime, if you are not sure what benefits VoLTE brings, you might want to check out
this article
.
In addition to the new voice transfer system, T-Mobile is slowly continuing its expansion of Wideband LTE. Now this one is a bit harder to spot. First, you need to make sure that you are holding a category 4 device (
Nexus 5
,
LG G2
and
Galaxy Note 3
). The best way to tell
whether you've got Wideband is to run a speedtest. Results higher than 30Mbps are a guarantee that you're running on 15+15 or 20+20 LTE. If you wish to be completely sure - you can access the information of the bands you are using via your handset's Service Mode. Category 3 devices (like the iPhone 5/5s/5c, Galaxy S3/S4/Note 2 and others) would still be compatible, but will not show a huge improvement over the current data transfer system.
As far as coverage goes - ever since T-Mobile's announcement of the new data transfer back in November 2013, it has been spotted and tested in Dallas, Winder, Portland, West Valley City, and this week's new additions - Green Bay and Manitowoc. Speeds ranging from 40Mbps up to 100Mbps and sometimes - even slightly above!
And last but not least on the list of the carrier's updates - a few more markets have received the upgrade from 2G/EDGE to 4G/LTE. The company plans to upgrade its entire network and eventually shut down 2G. "Eventually" probably means at least 3 years from now, we would wager.
source: TmoNews (
1
,
2
,
3
)