John Legere meme-trolls Verizon about the OnePlus 7 Pro
3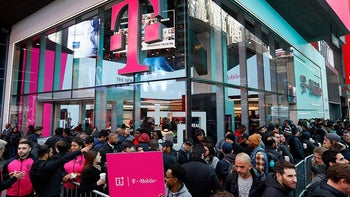 If you live near one of T-Mobile's signature stores, you can grab the OnePlus 7 Pro as soon as today, its CEO John Legere is quick to remind us, but also quick on the meme trigger, releasing the following troll effort to rake Verizon over the coals of affordable telephony.
OnePlus 7 Pro price and release date on T-Mobile
The newest flagship from everyone's favorite underdog will be available at all T-Mobile Signature Stores that host launch events, starting today at the one in NYC. The nationwide release at other T-Mobile stores and online is scheduled for this Friday, May 17th.
May 14th from 2pm-10pm ET
NYC T-Mobile Signature Store: 1535 Broadway St. Ste 161A New York, NY, 10036
May 15th, starting at 2pm local time
Chicago T-Mobile Signature Store: 700 N Michigan Ave, Chicago, IL, 60611
Las Vegas T-Mobile Signature Store: 3791 S Las Vegas Blvd S. Ste 1300, Las Vegas, NV 89109
Miami T-Mobile Signature Store: 738 Lincoln Road, Miami Beach, FL 33139
San Francisco T-Mobile Signature Store: 1 Stockton St. San Francisco, CA 94108
Santa Monica T-Mobile Signature Store: 1410 3rd St Promenade. Santa Monica, CA 90401
As for the pricing, the 8GB/256GB model that T-Mobile will sell in the US, goes for the refreshing $699. The "basic" 6GB RAM/128GB model is just $670, while the souped-up version with the whopping 12GB RAM and 256GB storage will be going for the humble $750 in the US, making it the cheapest such memory monster on this side of the pond.