T-Mobile Moto X now available directly from Motorola
4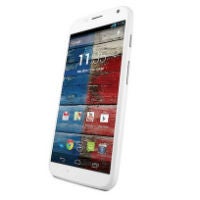 So this is it. Sprint is now the last major carrier in the U.S. that still doesn't have the Motorola Moto X on sale.
T-Mobile
had said before that it wouldn't be selling the device directly, but the model that will work with T-Mobile is now available, and can be purchased directly from Motorola.
Motorola has launched a page specifically for the Moto X on T-Mobile, but it is taking a bit of time to get to full steam. When the reports first came out, both the woven black and woven white were listed as out of stock; and, although the woven black is now showing as available as of this writing, the woven white is still showing as out of stock. And, of course, there are no options for a customized Moto X yet.
If you want a T-Mobile Moto X, you will have to purchase it at full price, which is listed as $599. That makes it slightly more expensive than a full price Moto X from AT&T, which has been listed at $579. T-Mobile hasn't said outright that it will never sell the Moto X in stores, so maybe we'll see that once the Moto Maker customization tool opens up to more carriers.