Swordigo, Royal Revolt 2, Frontline Commando 2, and others arrive on Android, gamers rejoice
2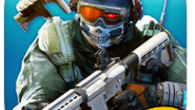 Most mobile gamers would agree that there is no better way to start the weekend than play a brand new time-consuming game on their beloved devices. If the latter is powered by Android and you are a true mobile gamer, then your weekend just became a tad more interesting – a plethora of newly-released games for the mobile platform awaits you.
Well, we can't review all of the new games that landed on Google Play for the past week or so, but we will distinguish the most interesting ones for you. Titles like Swordigo, Smash Hit, and Frontline Commando 2 are just some of the new promising games, recently released for the Android platform.
Without further ado, let's check them out!
via:
Android and Me