Survey shows that 50% of shoppers consult their phones in making a decision for a purchase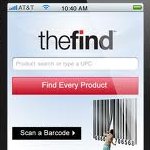 Power is once again being diverted to the average consumer, and that's partly due to the immense popularity seen with mobile phone apps.
In a recent survey conducted by Arc Worldwide on 1,800 US phone users, they astonishingly find that approximately
50 percent
of consumers are consulting their mobile phones for their shopping needs. Even more surprising is the fact that feature phones make up a good majority of those figures primarily because the smartphone penetration rate has yet to hit 50 percent in the US market.
Not only are we seeing more venues accepting payments from mobile devices, such as
Starbucks
, but handset owners definitely have a stronger presence in bargaining for the best prices. In fact, there are quite a few apps that allow users to instantly compare prices on specific products by simply scanning their barcodes – thus giving a slight leverage to the consumer in attempting to get the most bang for the buck.
Naturally, we'd expect these figures to rise over time, but it'll be interesting to see how retailers adapt to these new mobile strategies.
source:
Mashable
via
Textually