Surprise! The 5 most popular phones are powered by neither Snapdragon, nor MediaTek
13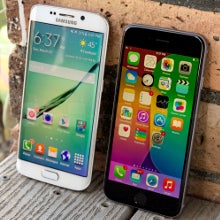 If you read tech blogs, you would be left with the impression that Qualcomm's Snapdragon chipsets, and the up-and-coming MediaTek processors are ubiquitous in the smartphone world, while handsets without one of those in, are outliers.
Research firm Strategy Analytics ran its thorough analysis of the mobile phone industry for the last quarter, and amongst all the market share movers and shakers is tucked this bombshell - none of the top 5 most popular phones in Q2 is powered by these two omnipresent chipset families.
It's an interesting statistics, but hardly surprising, though - out of the five most popular smartphones by model we have two made by Samsung, and two by Apple, as well as one by Huawei, and these companies all have their own custom chipset lines to rely on. Samsung eschewed the overheating
Snapdragon 810
for the homegrown
Exynos 7420
in the
Galaxy S6
, and never looked back. Apple has its custom AX line, and both the
iPhone 6
and
6 Plus
are outfitted with the
A8
edition, while Huawei uses a
Kirin
CPU portfolio of its own making, too.
Bummer for Qualcomm and MediaTek, but there are still hundreds of handsets that are using their silicon, so they shouldn't be shedding tears over the drawing board. Hear, hear.