Samsung Exynos 7420 power consumption measured: big improvements
33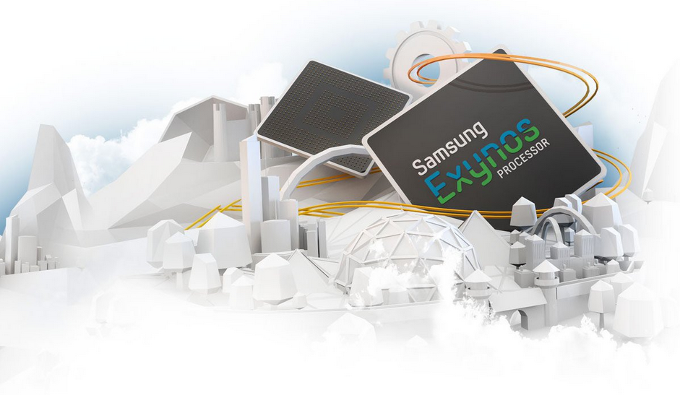 Unlike Intel, chip makers in the mobile space are reluctant to give out details about their chips, leaving the task to developers to explore with microbenchmarks and reviewers to dig out fine details and reverse-engineer their efforts. Samsung's Galaxy S6 is no stranger to that practice as there are little public details available about the inner workings of its Exynos 7420 system chip.
It's a very interesting chip for a few reasons: it's the first 14nm system chip by Samsung, it has arrived before the competing FinFET 16nm process is made available by TSMC (rumors claims that this technological advantage might have won Apple to switch over to Samsung's fabs for the iPhone 6s family), and it seems to be a remarkably powerful chip.
Luckily, AnandTech's Andrei Frumusanu has published a deep dive on the Exynos 7420 system chip with separate looks at the major building blocks of this SoC: the big.LITTLE CPU that uses four high-performance Cortex A57 cores in combination with four low-power Cortex A53s, the new Mali T760 GPU, and the use of LPDDR4.
It's a fascinating read and we'd like to share a few of the most interesting conclusions AnandTech makes about the Exynos 7420. The first thing that most people would be interested in is - naturally - power consumption and how it is affected by the new 14nm process. What's measured in the charts below is average consumption per core first for the A53 cluster, and then for the A57 quad-core cluster, each followed by a comparison to power consumption by the respective big and LITTLE clusters in the Exynos 5433 (the chip that powers the Samsung Galaxy Note 4).
All of those improvements are worth applause: maximum power consumption of the A57 cores in the Exynos 7420 stands at 5.49W, much less than the 7.39W peak in the 5433. Interestingly, the disparity gets even higher when you look at different clock speeds: for instance, at 1.9GHz, the 7420 uses only 4.12W in comparison to the 7.39W of the 5433.
For more details and a real deep dive on the Exynos 7420, hit the source link right below.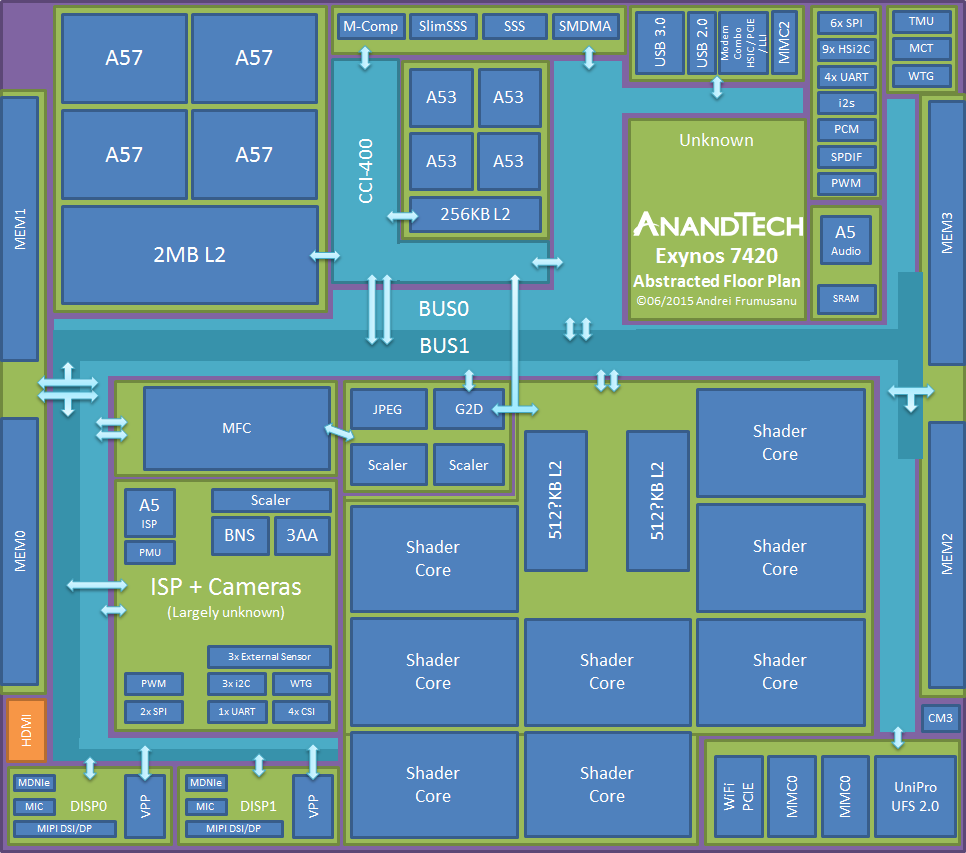 Exynos 7420 block chart