Study shows Apple is grabbing business from small and medium sized companies
22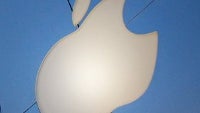 According to information from a company called Intermedia, 76% of the devices activated by its customers from January through October this year, was an Apple iPhone. The reason that is so important is that Intermedia deals with small and mid-sized businesses. The implication is that businesses of those sizes are picking the iPhone over the competition by a rather large number.
After Apple, Samsung came in second accounting for 12% of the handsets activated by the small and mid-sized firms served by Intermedia. Motorola was third with a 6% share, followed by the 2% belonging to HTC. BlackBerry, once the pinstriper's best friend, could only garner 1%. From January 2011 through October 2013, the Apple iPhone surged to be the smartphone of choice by Intermedia's customers by a large margin. During the same time frame, Samsung jumped over Motorola to become second.
Other interesting data compiled by Intermedia, and revealed on its infographic, shows that the
Apple iPhone 5s
has been activated 5 times more than the
Apple iPhone 5c
by its customers. And if you have been following the mobile industry throughout the year, it shouldn't surprise you that for the first ten months of 2013, Windows Phone handsets and Windows powered tablets saw activations rise 93% year-over-year. Should Apple, Samsung and Google be worried? Intermedia says they should be.
While holiday based activations do occur, especially in January, more growth in activations is seen around the time that a new Apple iPhone or Apple iPad gets released. Fascinating stuff, really, and you can sink your teeth into more by viewing the slideshow below.
source:
Intermedia
via
Forbes