Staples to begin selling Apple products in the U.S.
5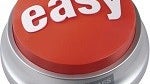 A tweet sent out by Staples' Senior Vice-President of Global Human Resources, Regis Mulot, said that Apple products are coming to the United States. His tweet (which has since been removed) said, "After Canada, #Apple products are coming to #Staples in US. Great news!"
A number of other employees with Staples also revealed the news after attending a meeting on Thursday, including Mike Goggin, a Field Services Manager with the company, who Tweeted that the deal is done. Staples already sells Apple products at its Canadian locations. No word yet as to when Cupertino's goodies will find themselves on display with "easy" buttons, office furniture and envelopes, but it will certainly have appeal for regular customers of the company Mitt Romney built.

Staples has a fairly decent rewards program that allows customers to build up "Staples Rewards" which can then lead to significant savings on some products. The rewards programs are popular with small businesses and sole proprietors, so this will certainly add some shelf appeal for Staples, and it just knocks out one more retail venue for Apple to move inventory to loyal customers.
With rumors like this, an official announcement is certainly around the corner. We will keep you posted.
source:
AppleInsider