Spy shots of the BlackBerry Curve 9300 Kepler indicate that 3G is on board
This article contains unofficial information.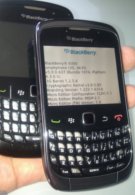 The aging BlackBerry Curve 8520 may have brought on the new style of the optical track pad, but it still lacked in terms of usability as it did not have support for 3G – leaving owners to connect via Wi-Fi to experience faster data speeds. There were some new leaked images of the BlackBerry Curve 9300 Kepler which is alleged to be the replacement of the Curve 8520 and offers some new revelations. As we've
reported back in April
, it was seen that the Curve 9300 would pack on 3G support, but now there is now confirmation on its reality. In addition, the few other known things about it is that it'll feature a 624MHz processor and Wi-Fi connectivity. One question on the minds of people is whether or not it'll come with BlackBerry OS 6.0, but the images show that it's clearly running OS 5.0 and it's suggested that 256MB of RAM would be the cutoff for the new platform – which is looking good for the Curve 9300 as it packs that amount. Finally, there are also rumors that the 9320 and 9330 are currently in the process of being developed. Nonetheless, it'd be nice to see them sporting the newer platform to attract future customers to its aura.
RIM BlackBerry Curve 9300 Preliminary Specifications
via
BlackBerry Cool