RIM in the works of making the BlackBerry Curve 9300?
This article contains unofficial information.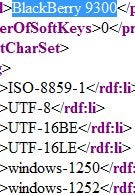 Still fresh from its release of the latest version of the BlackBerry Curve series with the 8520 and 8530 models, there is word that RIM is already in the process of crafting its potential successor in the BlackBerry Curve 9300 or simply Curve 3. More truth is shed surrounding this rumor as there was a UAProf Document found on the BlackBerry.net server that points to a new device – with the possibilities of the Keppler name being used for the 9300 and Aries II for the CDMA 9330. The only other pieces of information hat can be gathered at this point from the document is that it'll offer a 320 x 240 pixels display and will have 3G access. With the BlackBerry Curve 8520 happily selling for a little bit over 7 months now, it would be just about that time when the manufacturer would start the process of getting a replacement ready.
source:
BlackBerry.net
via
BlackberryOS