Sprint's Employee ID pack spills the LG Q, Motorola Sunfire, Samsung Chief and LG Optimus B
5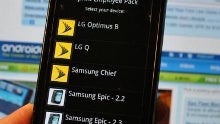 The Sprint ID pack for employees, which contains links to sales tips, device specifications and the like, has four new devices listed - the
LG Q, Motorola Sunfire, Samsung Chief and LG Optimus B
- with Sprint logo placeholders instead of pictures next to the names.
It also lists the Epic 2.3, which is most likely the long-awaited update of the Samsung Epic 4G to Android 2.3 Gingerbread. The Motorola Sunfire is probably just the internal codename for the recently announced
Motorola PHOTON 4G
, while the Samsung Chief could be the
mid-range SPH-D600
, also leaked as the
Samsung Conquer
, with a slide-out QWERTY keyboard. We doubt it is a WiMAX version of the Samsung Galaxy S II, but hope dies last.
The two LG handsets are trickier. The
LG B
was the codename of the
LG Optimus Black
when we first heard about it, so this might as well be the Sprint version of the handset with the brightest display out there. The LG Q, on the other hand, might turn out to be the
LG Slider/Gelato
, which is rumored to appear in Sprint's portfolio come September. Obviously the carrier has a lot planned for its roadmap, and we'll be hearing about these pretty often.
via
AndroidCentral
Recommended Stories