Motorola PHOTON 4G Review
79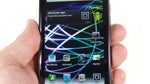 Introduction:
Not too long ago Motorola was teetering on the brink of viability, but along came a little green robot and the company's fortunes have changed drastically. Sprint's situation isn't quite as bleak, but its hoping that their renewed partnership with Motorola helps turn the tide for the nation's number three carrier. They're kicking things off with a bang with the
Motorola Photon 4G
, a beastly phone with a massive spec sheet. Some of the highlights include a 4.3" qHD display, 1GHz dual core Nvidia Tegra 2 processor, 8-megapixel camera with 720p video capabilities and a kickstand. The Photon is also a world phone with support for Sprint's WiMAX 4G. Included accessories are light: you simply get a microUSB cable and the AC adapter.
Design:
To be honest, the Photon 4G takes a lot of its design cues from the
RAZR V9m
. From the dark gunmetal housing around the 4.3" display to the soft touch feel of the battery door the Photon 4G resembles the RAZR a lot. Being one of the most beautiful flip phones ever it is not a bad source of inspiration. The Photon 4G is definitely its own phone though. It is large an unapologetic, but very well constructed and comfortable to use.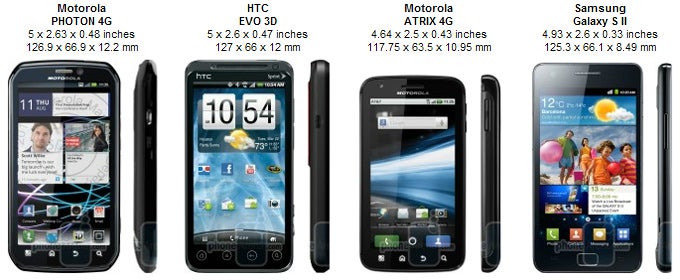 You can compare the Motorola Photon 4G with many other phones using our
Size Visualization Tool
.
There once was a time that a 4.3" display would turn heads, but these days it has become passé. Luckily the Photon 4G's
qHD display
will still grab your attention by being brilliantly vivid, bright and crisp. It has an above average viewing angle and we didn't have much of an issue using it in direct light.
Motorola Photon 4G is very large, but feels well-balanced and natural in the hand. Though angular at first sight, the
back
of the phone is rounded and that makes it more comfortable to hold. The
volume rocker and camera key
are both ribbed, which makes them easy to find by touch and feedback is good when you activate the buttons.
Motorola not only upstaged HTC by including a
kickstand
on the Photon 4G, but they also included a sensor that launches the Widget Clock app, which is similar to a desk clock app. The kickstand is very sturdy, which comes in handy. The
microUSB port
is unfortunately on the left side of the phone, making it impossible to plug in when the kickstand is being used in the intended manner because it becomes the bottom. The sturdiness of the kickstand allows the phone to be turned the other way however, an unintentional advantage to good construction.
All-in-all Motorola has done a good job with what is essentially another black slab device. It's hard to really differentiate yourself in an increasingly crowded market, but Motorola is letting the quality of their work stand out with the Photon 4G.
Motorola Photon 4G 360-degrees View: