Sprint to offer BlackBerry Tour later this summer
3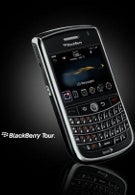 As
we expected
, at the stroke of midnight Verizon flipped the switch on their web page announcing the BlackBerry Tour 9630. But then Sprint decided that Big Red shouldn't be hogging all the fun and up came their own site, allowing you to sign in to register with the pin dropping network to receive email when the Tour is being sold by Sprint. The carrier did announce that it plans on selling the Tour "later this summer" for $199.99 after a $50 instant rebate and your signature on a 2 year contract.
One thing that we still haven't been able to settle is whether or not the Tour does offer a touchscreen and if it does, is it the SurePress mechanism seen on the Storm?
*Update* The official specs reveal that the Tour will not have a touchscreen.
Regardless, the handset has really set some hearts a flutterin' among cellphone fanatics.
BlackBerry Tour 9630 Specifications
source:
Sprint