UPDATE:BlackBerry Tour launch info to be released tomorrow by Verizon Wireless?
11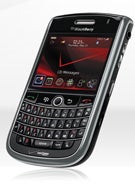 If Verizon is going to be selling the BlackBerry Tour in July as we've
reported
, it would make sense that some sort of announcement giving out a launch date needs to be made soon. How about REAL soon? How about...say...Tuesday? According to a new source at BGR, Big Red is expected to announce tomorrow a release date for the handset and perhaps pricing info will be made known as well.
With all of the new handsets expected to be released in the next few weeks, it would make sense for the carrier to strike while the iron is hot. A mild buzz has been generated around this device, and not just among the usual BlackBerry fanboys. If an announcement is made by Verizon, you can expect the web site at www.verizonwireless.com/tour to go live.
BlackBerry Tour 9630 Preliminary Specifications
source:
BGR
*UPDATE*
As of midnight, the web site is now up and running with a place for you to sign-up to receive more information on the phone and get an invitation to pre-order the Tour.
No mention has been made about whether or not there is a touchscreen or SurePress
technology on the device.
*Update* The official specs reveal that the Tour will not have a touchscreen.