Sprint says HTC EVO 4G LTE finally coming "in the next few days"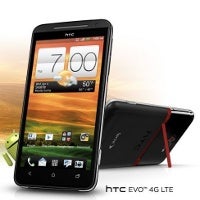 If you follow the drama around US customs blocking HTC handsets at the border over intellectual property infringement accusations, you probably already know that the phones are finally freed up and shipping to carriers and retailers. And one particular phone that suffered from the blockade was the HTC EVO 4G LTE, one of the most anticipated smartphones for Sprint this summer.
Sprint has shipped some early pre-orders just before the HTC customs debacle, and now the carrier says the EVO 4G LTE is just mere days away from finally making it to the shelves. We still don't have an exact release date, but
"in the next few days"
sounds reassuring enough for us. Here's Sprint's official statement:
While Sprint customers who pre-ordered their HTC EVO 4G LTE received their device last week, Sprint continues to wait for our full inventory from HTC. We recently learned that HTC devices have been released by U.S. Customs. We expect shipments of HTC EVO 4G LTE to enter the U.S. in the next few days. An exact availability date for HTC EVO 4G LTE will be communicated as soon as possible. To access the latest news and device information, visit our Sprint Community page where we'll be providing regular updates. Thank you for your interest and continued patience.