Sprint customers will soon get exclusive music streaming access with Tidal
4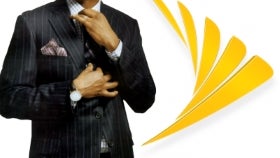 We have some good news for Sprint customers, that also happen to love music. Today Sprint and Tidal, the music streaming service owned by Jay Z, announced that they will partner up to bring Sprint customers unlimited access to exclusive content not available on other platforms. The partnership comes with Sprint acquiring 33% of Tidal, but Jay Z and the artist-owners will continue to run the platform, despite Sprint's CEO, Marcelo Claure, joining the Board of Directors.
"Sprint shares our view of revolutionizing the creative industry to allow artists to connect directly with their fans and reach their fullest, shared potential,"
said Jay Z.
"Marcelo understood our goal right away and together we are excited to bring Sprint's 45 million customers an unmatched entertainment experience."
However, if we're to judge by the press release, said
"unmatched entertainment experience"
will be delivered only to customers that subscribe to Tidal. So, in order to take advantage of this new partnership, you'll still have to reach in your pocket and pay way more than what Spotify would charge you. That is, of course, unless Sprint customers get significant discounts. The press release that announced the partnership says that
"news on exclusive offers and upcoming promotions from Sprint and TIDAL will be unveiled soon"
, so we expect Sprint customers to get some additional discounts and offers that will make the Tidal subscription far more appealing.
"Jay saw not only a business need, but a cultural one, and put his heart and grit into building TIDAL into a world-class music streaming platform that is unrivaled in quality and content," said Marcelo Claure. "The passion and dedication that these artist-owners bring to fans will enable Sprint to offer new and existing customers access to exclusive content and entertainment experience in a way no other service can."
With Spotify, iTunes and Pandora being direct competitors, Sprint and Tidal will have a tough road ahead of themselves, in order to keep their service competitive, despite Claure's bold statement.
Additional efforts on Sprint's side to push Tidal forward includes the establishment of a dedicated marketing fund for artists. According to Sprint, this
"will allow artists the flexibility to create and share their work with and for their fans."
source:
Sprint/Tidal
Recommended Stories