Sprint, Sanyo offer first US camera phone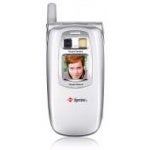 Cellular phones with integrated digital cameras are a growing trend in Europe and Asia, and are now arriving on US shores. The first US phone with camera support is the Sanyo 5300, which Sprint has announced will be available on their PCS Vision network in mid-November.
The Sanyo 5300 is a standard clamshell phone, with the screen on the upper half and key pad on the lower half. It runs on the PCS network, and features both voice and data capabilities. It includes a 16-bit, 65,000 color 2.2 inch LCD display. Besides usual display options, the screen can be used for animated ringers, games, downloadable Java-based applications, and screen savers.
The camera, which is located on the outside of the top half of the phone, supports VGA 640x480 color images and comes equipped with a digital zoom. It also has an optional flash. Beneath the camera lense is another small LCD that supports Caller ID display, either by phone number or one of six color selections to indicate category.
The Sanyo 5300 will be available nationwide direct through Sprint PCS in mid-November, and will cost $399.99 USD.