Sprint CEO says the third-largest carrier is benefitting from strong iPad sales
4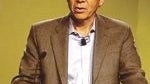 This may sound slightly confusing, but Sprint's CEO actually reserves words of thanks to Apple for their iPad tablet, despite the fact that Sprint doesn't offer Apple's device. As you may remember, Sprint made quite a clever move some time ago by
offering you a free case for your iPad
, if you buy an Overdrive 3G/4G mobile wireless hotspot.
The trick seems to work, says Sprint's CEO Dan Hasse, because people are buying huge numbers of Sprint's 4G mobile spot Overdrive for their iPads to stay connected when on the go. He didn't bother to elaborate what are the exact numbers, but his words are as follows:
"The company has seen an uptick in demand for its Overdrive (3G/4G) MiFi wireless hotspot device, as people use it to connect their iPads to the Internet when on the go."
Sprint is investing a lot of funds and energy to improve and expand its 4G network
with New York scheduled to be the latest megalopolis
to get the improved speeds later today. Sprint's investments in its 4G network really seem to be paying out.
source:
BGR
Recommended Stories