Spotlight: Tiles lets you add custom toggles to Android Nougat's Quick Settings
4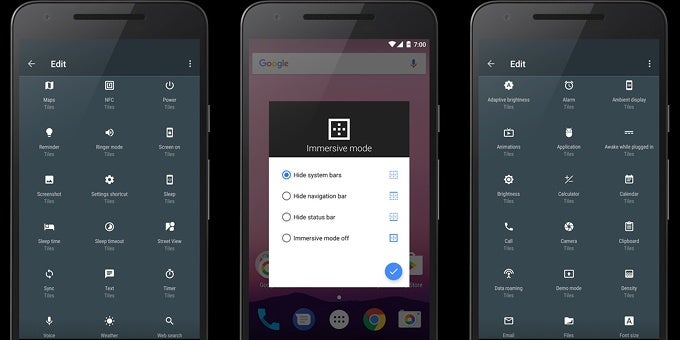 | | |
| --- | --- |
| Developer: rascarlo | Download: Android |
| Category: Personalization | Price: $1.99 |
Pssst! Hey, you! Got Nougat, perchance?
If that's the case, then you already meet the single requirement to make full use of Tiles, a neat app for Android that allows you to further customize the Quick Settings toggles of your device. True, you can already rearrange said tiles to your heartfelt content, but how would you react if we told you that you can put custom ones up there?
That's exactly what Tiles allows you to do. Simply installing it on your Android device gives you access to more than a dozen additional quick settings tiles that you can throw in the mix. Needless to say, you will be able to access these from anywhere by simply swiping down your notification shade and tapping the corresponding toggle. As easy as abc!
You will be able to make use of some self-explanatory tiles like Adaptive brightness, Calendar, Call, Camera, Email, Map, Immersive mode, Clipboard, Display density, Screen On, and Timer, among others. You can even get a weather forecast tile up there, which will give you quick access to the current weather conditions. Tiles even lets you pin any app you have on your device to the Quick Settings' tiles as a shortcut of sorts. That's neat, though we experienced a certain lag in the execution of that feature.
Tiles can be yours for $1.99, which seems like a fair price for the added functionality it can potentially add to your Nougat-powered device.
Recommended Stories