Sports Tracker fitness app coming to iOS and Android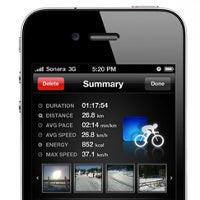 If you have followed phones in recentyears, you know that Nokia were scoring big with their handsetsroughly all the way until the iPhone came out. And if you've followedapps, you know that Sports Tracker was the ultimatesports app for your fitness-obsessed folk out there – givingyou all possible stats about your walk, run or cycle. All of thisbeauty was available for Symbian – the hot platform of the time –and backed by Nokia. But as Espoo slowly shifted away from theplatform, the engineers that are behind Sports Tracker decided tostart their own company and now announced their decision to port thefitness application to iOS and Android.
So much for our retrospection, but aquick look at the actual functionality of Sports Tracker reveals thatit basically transforms your cell phone into a GPS sports machine andalso makes you a part of a bigger active community. One, which shareseverything sports-related like interesting cycling or skiing routes. The app will be entering final testing stages soon, so expect to seeit soon on the App Store and the Android Market.
source: Sports Tracker via Nexus404