Speed typing on BlackBerry Storm 2 9550 shown on video
This article contains unofficial information.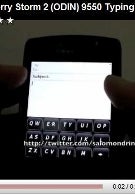 With all of the improvements that RIM has baked into the BlackBerry Storm 2, perhaps none impresses as much as the improved SurePress typing system. The "clicking keyboard" was a bullseye for criticism the moment the first-gen model was released to the public. Internal pictures of the new model show 4 sensors, one at each corner of the handset, as opposed to the one sensor in the middle of the original Storm unit. The 9550 Storm 2 is expected to be launched by Verizon on September 29th for business customers, October 14th for the rest of us. Pricing is unknown.
RIM BlackBerry Storm 2 9550 Preliminary Specifications
Source:
PhonesReview