Speculations: Sony Ericsson Ai Concept Phone
This article contains unofficial information.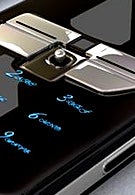 Some new 3D renderings surficed the internet to display an idea of what future Sony Ericsson phone may look like. Although we are skeptic about the legitimacy of the images, they look professionally done and so we are publishing them to tease the fans of the brand. Keep in mind that this images are renderings, not real photos, and it is highly possible that they don't have anything in common with Sony Ericsson ™ but are just fan's 3D work.
This is a design for the Sony Ericsson Ai – the manufacturers attempt to conquer the market of slim and stylish phones, which is dominated by Motorola's RAZR, SLVR, and KRZR lines and LG's Chocolate phones. This design reminds of the KRZR and Chocolate by its glossy reflective surface and of the latter by the touch-sensitive keys. This phone should pack 3.2-megapixel camera with auto-focus and Xenon flash, 2GB hard disc, FM radio, and should have two versions with different form factors – a candybar and a slider.