Space Expedition: Classic Adventure lets you paint abandoned space station walls in pretty alien blood
0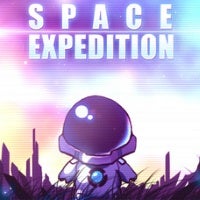 In the world of gaming, space expeditions are no walk in the universal park. There are always those pesky aliens that roam around, hungry to prey on your soft human flesh. What else can you do, besides give them a good, honest blaster shot? In Space Expedition: Classic Adventure, you'll retread the familiar plot of an astronaut sent on an abandoned space station in the middle of interstellar nowhere.
Aside from painting the station's walls in pretty alien blood colors, you'll be tasked with solving quests , dodging traps, operate machinery and you'll even fly a spaceship chased by a humongous monster! Sounds like all the best stuff you can do in a spacey game, bundled in one package.
SE:CA is built by Mobirate Studio, also responsible for Parking Mania and Dead Ahead. The game features exceptionally colorful 2D sprite graphics and a wealth of different levels, including underwater and platforming sections that break up the tempo and change your style of playing. We're not sure how long the game is, but it seems to offer a quality time for just $2.99.