Sony reportedly looking to sell its stake in S-LCD
2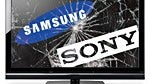 After eight straight years of losses in its televisiondivision, Sony is reported to be in talks to sell off its stake in S-LCD, ajoint venture between Sony and Samsung. Founded in 2004,S-LCD supplies LCD panels for mobile phones to Sony, Samsung, and HTC, as wellas producing larger LCD panels for television sets.
Samsung currently owns 50% plus one share of S-LCD, and isreported to be negotiating to buy out Sony's portion of the company. This haswidely been seen as part of a strategic restructuring Sony is undertaking in anattempt to return its television division to profitability. The relationshiphas been strained the last few years, as Samsung has soared past Sony in worldwideshipments of both TVs and smartphones. In 2008 Sony entered into a separatejoint venture with Sharp, in an attempt to leapfrog S-LCD in LCD manufacturingtechnology. Sony put that venture onhold earlier this year, citing ongoing weakness in the global economy.
Sony and Samsung have refused to comment on S-LCDnegotiations, although sources say they hope to conclude the deal before the end of2011. DigiTimes notes that this may provide an opening for Taiwan LCD panelmanufacturers such as AU Optronics and Chimei Innolux to expand their marketshare.