Sony offering a limited edition Launch Bundle for the PlayStation Vita with an AT&T DataConnect Session Pass
3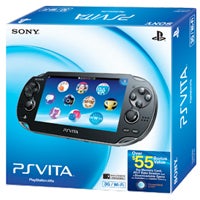 If the PlayStation Vita is on your list of 2012 must have gadgets, Sony has a smoking launch deal available. The Launch Bundle will cost the same as the standard PlayStation Vita 3G/Wi-Fi device at $299; however, this special edition throws in a few goodies for early adopters.
The deal includes an 8GB Memory Card, a free PSN Game, and an AT&T DataConnect Session Pass that's good for 250MB of 3G data.
While there is a "First Edition Bundle" also available at launch that includes a 4GB Memory Card, a game, and a case, this is the first bundle being offered that includes some AT&T service with it so you can literally tear it out of the box and get online.
As we previously mentioned,
AT&T announced that it will be the exclusive U.S. wireless carrier for the PlayStation Vita
and will offer both 250MB and 2GB prepaid data plans.
source:
Sony
via
GSMArena