Sony having big plans for 2013, aiming to ship 50 million smartphones
41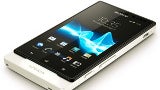 According to Digitimes' favorite "industry sources," Sony Mobile is aiming to have a big year in 2013. The manufacturer is said to be planning to sell about 50 million smartphones, which would be a pretty decent increase in volume compared to the 35 million units it's expected to ship in 2012.
Currently, Sony is one of those handset manufacturers that are having quite a lot of trouble dealing with the monstrous competition from Samsung and Apple. In contrast to many others, though, there's still hope for Sony, which has been consistently launching well-made Xperia smartphones these days, although a big hit from Sony's camp is yet to be seen.
The companies that will help Sony build at least 30-40% of all these 50 million handsets expected for 2013 include Foxconn, Arima and Compal.
Although Sony's phones seem to be OK in terms of hardware, we think the manufacturer should work on its software experience if it really wants to succeed. The custom UI that Sony is using for its Android phones looks good, but it often presents users to sub-par performance compared to some others out there like Samsung's TouchWiz. If Sony can get its software right, then it might as well swing back to profitability.
source:
Digitimes