Sony brings 1080p recording to the QX10/QX100 lens-style cameras
4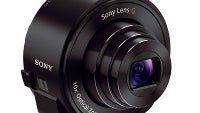 Great news for people who own a Sony Cyber-shot DSC-QX10 or a DSC-QX100 lens-style camera! The firmware update, which we informed you
about more than a month ago
, is finally available for download. It adds Full-HD video recording capabilities and other nifty features to both lenses. This means that both gadgets can now record videos with a resolution of 1920 x 1080 pixels. Up until the update, the lenses could record video clips at a maximum resolution of 1440 x 1080 pixels.
In addition, the DSC-QX100 lens has received a shutter priority mode, which allows you to directly control the speed of its shutter. Additionally, in order to boost low-light capabilities, the ISO range of the DSC-QX100 has been greatly improved – from "max ISO 3200 to max ISO 12800''. The light sensitivity of the DSC-QX10 has also been increased to ISO 3200. This means that both lenses are now capable of shooting even better low-light stills.
The lenses can't be updated over-the-air, so you will need to execute this operation via your desktop computer. You can download the update at the source link.
Our full review of the Sony DSC-QX10/QX100 lenses can be found
here
.
source:
Sony
via
Engadget