Sony Cyber-shot DSC-QX10 and DSC-QX100 hands-on
And just like that people, Sony's long rumored "
lens-style
" QX series cameras are now official-official! Looking back at the evolution of the camera phone, it's amazing to know what direction we're now moving into, especially when we stop and ponder to reflect back on where this particular segment first got its humbled beginnings. However, Sony is surely hoping to deepen the field by introducing a whole new concept to the way we shoot photos.
So far, the general set of cameras in today's modern smartphones produce the same quality as some basic point and shoots – nothing remotely close to the results produced by expensive high-end DSLRs. Very recently, though, we've seen niche products like the Samsung Galaxy Camera, and more recently, the Samsung Galaxy NX, that are first and foremost dedicated cameras, but they're powered by Android platform to give users a deeper set of controls and easier sharing functionality.
Sony's undertaking is going in a totally different direction! Enter the innovative Sony Cyber-shot DSC-QX10 and DSC-QX100 lenses. Basically, they're producing dedicated lenses that can be used independently, or "
tethered
" to smartphones or tablets. All of the hardware is naturally tucked into the housing of the lenses – while the smartphone/tablet provides the software part of the entire experience. We'll admit, the concept is something we haven't been exposed to, but nevertheless, it's intriguing to see where Sony is going with this. Outing two particular models, the versatile Cyber-shot DSC-QX10 lens with its 10x optical zoom, and the high quality DSC-QX100 with its low lighting prowess, we managed to get a quick hands-on look with them.
Design:
Both are mostly constructed out of plastic, which give them an almost hollow feel, but at least the build qualities seem solid enough to endure superficial damages. Like we mentioned, they can be used independently, as they feature zoom toggles, two-level shutter keys, tripod mounts, built-in rechargeable batteries, and those handy dandy memory card slots to save photos. At first glance, it's a bit alien fathoming the idea of using them independently, since they lack any kind of viewfinders to give us a good look of what we're snapping, but nonetheless, we have that option. In the rear of both lenses, there's the mechanically adjustable adapter that enables us to attach it to different smartphones – even those with large 5-inch displays. It's different we'll admit, but the connection seems firm without any give in its movement and operation. Looking at the entire setup, it almost looks like we're holding onto some micro four thirds camera system.
Diving into the nitty-gritty, the Sony Cyber-shot DSC-QX10 lens is regarded as the all-purpose lens, as its 10x optical zoom provides enough variety in capturing subjects that are both near and far. Boasting an 18.2-megapixel effective Exmor RCMOS sensor, it's pretty versatile in giving us both wide angle and telephoto shots. When it comes down to it, we can get close to subjects that are pretty far away.
However, when it comes to low lighting shots, the Cyber-shot DSC-QX100 lens is the ideal choice, seeing that it features a sharp 1-inch, 20.2-megapixel MP Exmor RCMOS sensor, which pushes the boundaries with its f1.8 aperture lens. Instead of getting blurred images when shooting under low lighting conditions, it'll be able to take in more light to produce photos that maintain a fine level of sharpness. In addition, it's a wickedly fast lens too, which is perfect for snapping fast moving subjects.
Honestly, it's super easy connecting these lenses to our devices – especially those with NFC. That's because a quick tap establishes the connection with any NFC-enabled Android devices. Whereas with the iPhone, there's a bit more to the procedure, since it relies on a Wi-Fi connection.
Software:
Now, the second part to this new system is found in Sony's PlayMemories Mobile app for iOS and Android, which delivers the software experience – enabling the connected device to act as the viewfinder and menu driven controls. Quickly glancing at the app, we'll say that it offers a variety of shooting modes and manual controls, but to tell you the truth, it's not as comprehensive when compared to what DSLRs provide. Still, it's a pleasant start considering that we haven't seen anything like this before – so we're a bit forgiving. When it comes to snapping photos and saving them onto a device, there are several different saving resolutions available that knocks down the size, so that they're more ideal for sharing on the fly. However, you can always opt the lenses to save in full resolution.
Shooting photos is a quick process with the two lenses, however, there's one glaring thing we notice when shooting 1080p video with them. Above all, there's a latency issue between the lens and connected device – a delay of approximately a couple of seconds from what we can gather. Needless to say, some people might not find it too distracting, but when timing is everything, it can become a pervasive issue. Worst yet, knowing that these lenses connect via Wi-Fi to devices, it can spell havoc if they're used in areas where there are a great deal of devices connecting through Wi-Fi – like a press event or major trade show. At that point, the entire system might prove to be a test in futility, as the connection would seemingly stutter or disconnect due to the saturation of devices taking up precious Wi-Fi bandwidth.
As much as we're digging this interesting way of snapping photos, it's really tough to detail their qualities, since we're looking at prototype models at this point. From what we can gather previewing a few snapshots on the displays of the connected smartphones, shots generally have a good level of clarity of sharpness – especially with the Cyber-shot DSC-QX100 lens. Heck, it seems to do a fine job with close ups and macro shots, seeing that there's a pleasing amount of bokeh in the shot to give the subject all the attention with its crisp visuals.


Release date, Price and Expectations
So what's going to be the damage for these two new lenses? Well, the new Cyber-shot DSC-QX100 and DSC-QX10 lens-style cameras will sell for $500 and $250 respectively. Come to think about it, the prices seem somewhat reasonable enough to swallow if you seriously have a knack for taking photos. Heck, you would no longer be required to carry around a bulky DSLR camera, since you have everything in reach with these lenses and an accompanying smartphone. However, we can't soundly say that they're going to produce shots that are better than today's DSLR cameras until we give them the full testing. Furthermore, we're crossing our fingers that Sony tweaks the software a bit more to rival the extensive controls that are available with today's dedicated cameras. As for availability, Sony mentions that the two will go on sale sometime later this month.
Official Sony Cyber-shot DSC-QX10 product images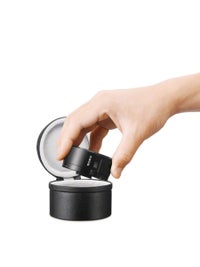 Official Sony Cyber-shot DSC-QX100 product images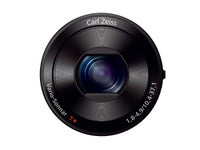 Sony Cyber-shot DSC-QX10 hands-on photos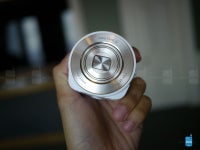 Sony Cyber-shot DSC-QX100 hands-on photos