Sony Xperia Z2 vs LG G2 vs Samsung Galaxy S4: specs comparison
5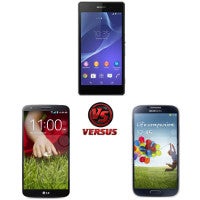 Sony's latest and greatest Xperia Z2 flagship has arrived in town, and that means it's time to roll up our sleeves and check out how it stacks against the competition. And what easier way than pitting it against what are likely going to be its two most serious rivals: the LG G2 and Samsung's still current Galaxy S4 (not for long!). Sure, one could argue that a single-pronged approach like that is hardly conclusive, and he'd be right. Which is why in the days to come, you can expect to get more and more information about Sony's newest flagship. Until then, however, a good, old-fashioned specs comparison will have to suffice.
Now, before we even start, it's important to note that the Xperia Z2 has a hand up over the LG G2, and especially the now aging Galaxy S4. It's tag reads brand new, so it's not at all surprising to see it's packing some really bleeding
edge
hardware. It's got a bigger,
5.1
-inch display (1080p), a bigger, 3300mAh battery, and the impressive 3GB of RAM. It's also outfitted with a set of stereo speakers -- and advantage over the Galaxy S4, but not the LG G2.
How does the full picture look like? Check out below.
Super AMOLED
IPS LCD
IPS LCD
Scratch-resistant glass, Ambient light sensor, Proximity sensor
Scratch-resistant glass, Ambient light sensor, Proximity sensor
Scratch-resistant glass, Ambient light sensor, Proximity sensor
Qualcomm Snapdragon 600 8974
Qualcomm Snapdragon 800 MSM8974
Qualcomm Snapdragon 801 8974-AB
Quad-core, 1900 MHz, Krait 300
Quad-core, 2260 MHz, Krait 400
Quad-core, 2300 MHz, Krait 400
Adreno 320
Adreno 330
Adreno 330
Android (5.0 Lollipop, 4.4.2, 4.3, 4.2.2)
Android (5.0 Lollipop, 4.4.2, 4.2.2)
Android (6.0 Marshmallow, 5.1 Lollipop, 5.0 Lollipop, 4.4.4, 4.4.2)
34.30 hours
the

average

is 17 h (996 min)
15.00 hours
the

average

is 17 h (996 min)
34.2 days (821 hours)
the

average

is 20 days (472 h)
28.8 days (690 hours)
the

average

is 20 days (472 h)
17.00 hours
the

average

is 19 h (1110 min)
21.30 hours
the

average

is 19 h (1110 min)
19.00 hours
the

average

is 19 h (1110 min)
15.4 days (370 hours)
the

average

is 0 days (0 h)
34.4 days (826 hours)
the

average

is 0 days (0 h)
30.8 days (740 hours)
the

average

is 0 days (0 h)
13.3 days (320 hours)
the

average

is 0 days (0 h)
Single camera
Single camera
Single camera
13 MP (Autofocus, CMOS image sensor, BSI sensor)
13 MP (Sapphire crystal lens cover, OIS, Autofocus, BSI sensor)
20.7 MP (Autofocus, CMOS image sensor)
Aperture size: F2.2; Focal length: 31 mm; Sensor size: 1/3.06"; Pixel size: 1.14 μm
Aperture size: F2.4; Focal length: 29 mm; Sensor size: 1/3.06"; Pixel size: 1.12 μm
Aperture size: F2.0; Sensor size: 1/2.3"; Pixel size: 1.12 μm
1920x1080 (Full HD) (30 fps)
1920x1080 (Full HD) (60 fps)
3840x2160 (4K UHD)
2 MP
2.1 MP
2.2 MP
1920x1080 (Full HD) (30 fps)
1920x1080 (Full HD) (30 fps)
1920x1080 (Full HD)
5.38 x 2.75 x 0.31 inches (136.6 x 69.8 x 7.9 mm)
5.45 x 2.79 x 0.35 inches (138.5 x 70.9 x 8.9 mm)
5.78 x 2.89 x 0.32 inches (146.8 x 73.3 x 8.2 mm)
4.59 oz (130.0 g)
the

average

is 6.5 oz (184 g)
5.04 oz (143.0 g)
the

average

is 6.5 oz (184 g)
5.75 oz (163.0 g)
the

average

is 6.5 oz (184 g)
Back: Plastic
Back: Glass
Notification light
Notification light