Sony's upcoming Xperia 3 flagship leaks in live pictures
20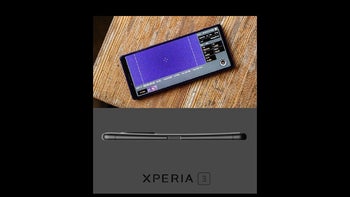 UPDATE
: The device in the first image is in fact that Sony Xperia 1, not the upcoming Xperia 3.
Despite the fact that it continues to shrink its mobile business, Sony will still launch new smartphones in the coming months. The next major launch from the Japanese company is another flagship device, which is likely to be named Xperia 3.
The phone is supposed to pack powerful hardware, such as a
Snapdragon 865 processor
and 5G support. As expected, Sony will launch two versions of the Xperia 3, which are codenamed Kona and Huracan. The difference between the two is that one will feature 5G support, while the other won't.
The first pictures of the Xperia 3 have just popped up on the Chinese website
CNMO
. In one of the images, the phone's right side is shown revealing a fingerprint sensor. The other one shows the phone's display, but we didn't notice anything unusual.
Sony is expected to introduce the Xperia 3 in February 2020, but a launch might not happen until at least a month later. Sony's flagship won't be the only one powered by the Snapdragon 865 processor, a chipset that's expected to be officially released in December.
It remains to be seen whether or not the Xperia 3 will be "unique" enough to be able to compete with other flagships that will be released in the first half of 2020.